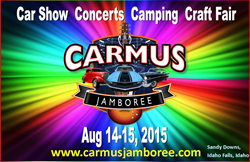 Idaho Falls, Idaho (PRWEB) May 21, 2015
It is announced today, that Carmus Productions, LLC, Producers of Carmus Jamboree 2015, presents new events at festival and nearby world known attractions for 2015.
Carmus Jamboree 2015, in South East Idaho, is a family festival that includes six different fairs, music festival and car show. The two day extravaganza held August 14-15, includes 30 different events to help 30 different charities.
New events include: Big Blitz BBQ Cook Off, Lawn Mower Races, Cow Pie Bingo, Greased Pig Contest, Free Funziest Kids Fair, Arts & Crafts Fair, Health Fair, Armed Services Fair, Carmus Auto Fair, Charity Fair, Singers Talent Show and Battle-of-the-Bands playoff, Carmus Film Festival and more.
Carmus Jamboree Concerts include four national bands (two per night): Christian music group -The Nashville Tribute Band, Country Artist—Justin Lynch, both perform on Friday night. Saturday night concerts include classic rock groups, Journey Former Lead Vocalist Steve Augeri, and Molly Hatchet. There are campsites available inside and outside the concert arena.
Carmus Jamboree 2015 Promoter Christine Campbell states, "We encourage everyone to book at least a week to truly enjoy our festival and more! We have three nights of camping for the two day fest, and there are wonderful hotels to stay at. For those who are traveling from distant areas, there is so much more to see within a couple of hours of driving. We have Yellowstone Park, Grand Teton National Forest, Craters of the Moon, Lava Hot Springs, Farnsworth TV Pioneer Museum – (The Invention of the TV), Mesa Falls, Potato Museum, Opal Mountain Mine, Bear World and even the Nuclear Reactor has a museum called, The EBR-I Atomic Museum. This is a one-stop summer vacation spot that will have memories to last a life-time, not to mention the photos and videos!"
To learn more go to the website: http://www.carmusjamboree.com.
EVENT: CARMUS JAMBOREE 2015

DATE:    August 14 – 15, 2015

VENUE: Sandy Downs, Idaho Falls, Idaho 83406

WEBSITE: http://www.carmusjamboree.com