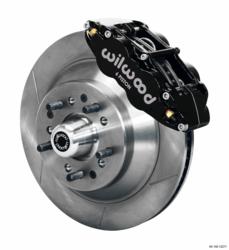 Camarillo, CA (PRWEB) February 24, 2013
Wilwood Disc Brakes is pleased to announce special limited time (March 1, 2013 through May 31, 2013) pricing on the top-of-the-line Challenge Series Big Brake Front Kits. These new Challenge Series kits now provide the most affordable opportunity ever offered for big brake stopping power and Wilwood styling on high performance street and track competition cars. New kits are now available for the popular 1960-70s GM and Mopar muscle car spindles, as well as the OE Mustang II and Wilwood Mustang II replacement ProSpindles (see ordering information below).
Challenge Series kits feature newly designed, 12.88 diameter, one piece carbon iron rotors that mount to the OE spindles with fully detail machined forged billet aluminum hubs. Big brake clamping power is delivered by Forged Narrow Superlite 6R (FNSL6R) radial mount six piston calipers. The base kits come with GT rotors and either black or red high-gloss powder coat calipers for a special price of $ 999.95. Kits are also available with SRP drilled and slotted rotors for a few dollars more, just $ 1,049.00. BP-10 compound low-dust, low noise Smart Pads round out the friction package. DOT approved stainless steel braided flexline kits, with a protective outer jacket, are also available separately to complete the plumbing installation on each individual vehicle. Optional custom colors are also available, as well as high-temp pad compounds for track use.
Challenge Series kits are loaded with the same cutting edge technology that has allowed Wilwood to dominate racing and motorsports for nearly four decades, and proven reliability through Zero PPM defect supply to OEMs. Not only will these kits exceed your braking demands on and off the track, they will deliver uncompromised performance and durability and the personalized big brake style you need for your muscle machine.
For more information contact: Wilwood Engineering at (805) 388-1188 and request to speak with Erika Gordillo for marketing issues, or Andy Fritts for technical questions. Also, Wilwoods website is accessible or e-mail customerreply(at)wilwood(dot)com
For a high resolution brake kit assembly photo for printing, please click here.
Ordering Information:

Kit P/N (1, 2)                Description                    Flexline Kit P/N

140-12271        1967-1969 Camaro, Disc or Drum Spindles        220-7056

140-12271(3)        1962-1974 Chevy II/Nova, Disc or Drum Spindles    220-7056

140-12271(3)        1964-1972 Chevelle, Disc or Drum Spindles        220-7056

140-12272        Magnum Force Dropped Spindle                Universal, Specify Length

140-12275        OE Style Pinto / Mustang II                Universal, Specify Length

140-12276        Wilwood ProSpindle                        Universal, Specify Length

140-12278        1970-1978 Camaro, Disc Spindle Only            220-10509

140-12280        1979-1981 Camaro, Disc Spindle Only            220-10509

140-12282        1962-1969 Mopar B Body, Drum Spindle Only    220-8307

140-12282        1970-1972 Mopar E Body, Drum Spindle Only    220-8307
Notes:    

(1) Add D to end of part number for SRP drilled and slotted rotors

(2) Add R to end of part number for Red calipers

(3) All 1962-1966 models require re-drilling and tapping of OE spindle bolt holes