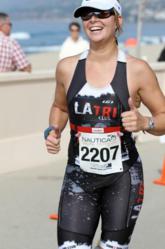 Redondo Beach, CA (PRWEB) September 29, 2012
If you have that competitive edge in fitness, you might be thinking about doing a Triathlon. Traditionally for endurance junkies who love to run, cycle and swim, Triathlons are multiple stage competitions involving the completion of three continuous and sequential endurance sports: swimming, cycling, and running in immediate succession over various distances. Training for these races can be tricky; that's why at Studio Pulse the classes we offer get you ready for your triathlon by providing endurance and strength building Spinning classes.
Brick classes at Studio Pulse combine the toughest transition in a triathlon which is between the bike and the run; Brick workouts mostly consist of a long bike ride following a medium run. After the biking portion and the beginning of the running, the legs feel heavy and the heart rate increases as the body switches the blood from the biking muscles to the running ones. Brick workouts help shorten the time our legs take to start feeling more normal and ultimately allowing a faster and better transition.
The 6 Am Brick class on wednesday mornings at Studio Pulse is just that..a full 50 minutes spinning is followed by a quick change of shoes to transition into running gear, going to 3 miles at least to get the full experience. The class is taught by a triathlete who is very involved in local races and is also a member of the LA Tri Club.
Studio Pulse offers a variety of classes that are complimentary to riding your bike outdoors and are also a great way to get focused training in the saddle without having distractions like cars and bad weather. No distractions means one can work in an uninterrupted state for a period of time to get and keep the heart rate at a high enough level. It means making your own hills, flats and intervals to make your heart beat faster and keeping it there as long as you plan.

Cross training is also an essential part of keeping in optimal shape and to help avoid injuries. At Studio Pulse, the fusion classes or the 30 minute power classes help you get your well rounded strength and flexibility training in every day, especially if you are pressed for time.

The 30 minute power classes are intense, fast and keep you on your toes.. every instructor is different so you might get a strength training class based on yoga or pilots or bootcamp or circuits the other day. Trigger point therapy in the stretch classes keep your muscles relaxed and injury free. But whatever you do, you will keep you body at it's peak performance by changing it up and adding variety to your workouts.
If you are new to triathlons and live around the Southbay, you might want to try a beginner-oriented course at http:// http://www.dayatthebeachtri.com. [The Hermosa Day at the Beach Triathlon __title__ Hermosa Day at the Beach Triathlon] which will be held on October 7, 2012.
If you are ready to step up your game, the Herbalife Triathlon Los Angeles is a terrific opportunity for athletes to compete in a world class event and experience Los angeles. Recreational, elite and professional triathletes will hit the Pacific ocean off Venice Beach on Sunday, September 30 for the swim leg of the 13th annual herbalife Triathlon Los Angeles.
About Studio Pulse
Studio Pulse, a Mad Dogg licensed facility, combines Spinning classes with strength and flexibility using fundamental training techniques, exhilarating music and a unique mind/body philosophy, all at a self-directed pace. They hold a very accommodating class schedule for SPINNING and Fusion classes that combine Spinning and Cross Training. Their tagline, "Spin Sculpt Stretch," covers all basics of a healthy fitness routine by incorporating cardiovascular, strength and flexibility training in one place. At 50 classes per week youll find a convenient time to meet your schedule. Classes are offered as early as 6:00am and as late as 7:30pm.