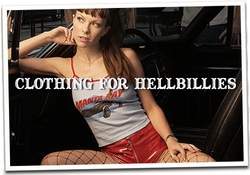 Nashville, Tenn. (PRWEB) May 6, 2008
Motor Brands USA, Inc. has re-launched a new ecommerce web site featuring hot rod apparel, muscle car t-shirts, rockabilly clothing and motor paraphernalia.
With the current theme "Clothing For Hellbillies," Motor Brands carries hot rod brands like Lucky 13, Steady Clothing, Sailor Jerry, Illicit, Clay Smith, Rat Fink, Dirty Devil and artist t-shirts by Ed Roth, Vince Ray, Von Franco, Kruse and more. Motor paraphernalia includes monster, skull and devil shift knobs by Van Chase, hot rod jewelry and accessories by Classic Hardware, Tres Noir, Lux de Ville and Eldorado Club. A majority of the motor couture Motor Brands has selected for its store are "Made in the USA" and hand crafted.
Mixing elements of hot rods, muscle cars, lowriders, 60s/70s kitsch, monsters, skulls, tattoos, beer and rock-n-roll, the store is primed for the rebel hellbilly who packs a gun, drives a pick up, drinks, smokes, collects B-grade horror/cult movies, likes his music loud, appreciates low brow art and lives life in the fast lane.
On Sept. 11, 2001, Motor Brands USA, Inc. launched it's first web store selling hot rod and muscle car t-shirts. Since then, the Motor Brands USA apparel line has sold to retail chains like Urban Outfitters, Hot Topic, Zumiez, The Buckle, Journeys as well as specialty stores and boutiques. The Motor Brands line was also featured in movies (House of Wax 2005) and TV (Saturday Night Live, Fuse, MTV).
An online emporium, MotorBrandsUSA.com is a counter culture lifestyle store that targets shoppers from 18 – 35 plus who have a passion for hot rods, choppers, muscle cars, low riders, tattoos, rock-n-roll, rockabilly/psychobilly music, art and culture.
"Genuine Rubber Burnin' Tire Screechin' Horse Kickin' Pedal to the Metal Hell on Wheels Kind of Store."
About Motor Brands USA

Motor Brands USA, Inc. which recently re-launched a new web site featuring hot rod apparel and muscle car t-shirts, has a vast selection to choose from. Find everything from hot rod muscle car t-shirts, rockabilly clothing, lowbrow art/couture to kitschy accessories, gearhead paraphernalia, counterculture gifts and more.
For more information, contact:

Mike Mal

motorbrands @ yahoo.com

615-654-3595
###
Related Muscle Cars Press Releases