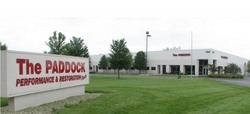 Avon, IN (PRWEB) May 22, 2010
The down economy has claimed another victim—The Paddock, a mainstay in the muscle car parts business for over 40 years. Indianapolis-based Key Auctioneers (www.KeyAuctioneers.com) announced today that it will auction the company's parts inventory, showroom items, collectibles, vehicles, and equipment at the company's 60,000-square-foot Knightstown facility.
The July 29 auction is expected to draw thousands of muscle car enthusiasts from the Midwest and beyond.
The Paddock has been a leading supplier of muscle car parts for several decades. Its thirteen parts lines represent some of America's most popular muscle cars, including Mustang, Corvette, GTO, and Camaro.
Company founder Jim O'Neil started The Paddock in 1965, restoring muscle cars in a small shop in Knightstown. By 1979, the company was manufacturing Mustang steel patch panels. The company's first Mustang catalog was printed soon thereafter and the company started to grow by word of mouth. In 1980, the first Camaro catalog was printed. In 1998, Wes Watts, a former parts manager for the local Chevrolet dealership, purchased the company from O'Neil.
Over the years the company added Firebird, GTO, Chevelle, Nova, Cutlass, Impala and other catalogs to its muscle car line. In 2001, Watts built a state-of-the art 60,000-square-foot facility to accommodate his growing business.
According the Watts, the economic downturn of the last three years, along with the credit crisis, contributed to the company's demise.
Key Auctioneers Senior Vice President Tim Boeglin said the company's intellectual property was garnering a high degree of interest. Included in the intellectual property are the company's name and trademarks, million-name customer list, websites, catalogs, and phone numbers.
About Key Auctioneers
Key Auctioneers is an Indianapolis-based auctioneer of commercial, industrial, and real estate assets in Indiana, Kentucky, Ohio, Illinois, Michigan, and Missouri. The company's automotives division has auctioned several Indy racing teams, including MoNunn Racing, Panther Racing, and Guthrie Meyer Racing.
For more information about Key Auctioneers, contact Tim Boeglin or (812) 327-5352.
###